Overview
The Olin Shop is the place where the ideas and initial concepts of student projects take physical form. Students fabricate project components using a variety of our equipment under the supervision of professional and student instructors. The Shop is used to support a variety of required and elective courses (e.g., Design Nature, Principles of Engineering, Mechanical Design, Materials Science, Engineering Polymers, Sustainable Design, Mechanics of Solids and Structures, SCOPE), as well as independent student projects, faculty research activities and student club activities.
The Shop is divided into several spaces, open during the daytime hours and equipped to handle almost any type of project. Other spaces such as the Mini Shop or the Wood Shop are available to trained students, faculty and staff from 6:00am-2:00am, seven days a week. The Shop staff and a set of highly trained students provide training in Shop operations to the Olin Community before the machine shop equipment can be used.
---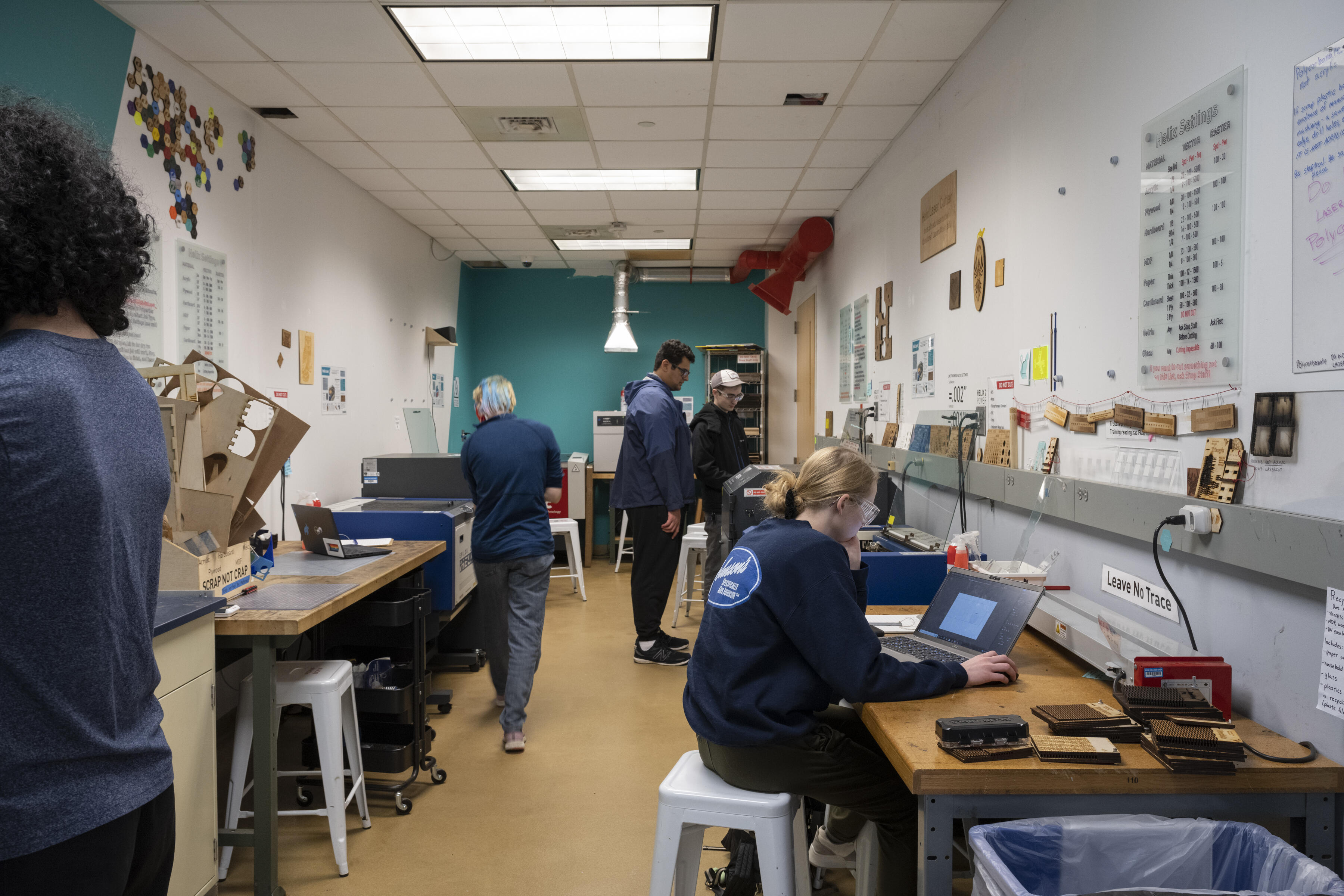 The Laser Shop (MAC 103)
MAC 103 houses 4 Helix laser cutters and a Trotek laser cutter. In addition to these machines, this space also contains a resin 3D printer. This space is laid out to offer modern, fast, and low-cost methods for building methods and working models.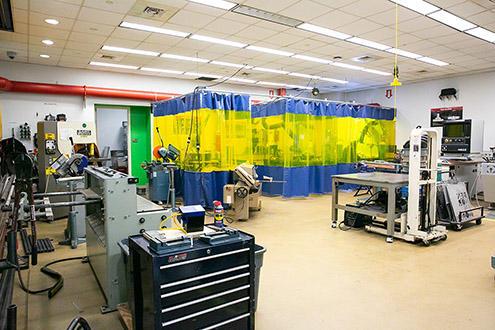 The Weld Shop (MAC 104)
The weld shop contains a variety of welding equipment and sheet metal tools such as a 48" hydraulic shear and a 48" finger break. This shop also has various mechanical hand tools for fabrication and assembly. There are 3 flexible welding booths available. One contains a CNC plasma cutter and 2 additional booths contain several MIG, TIG, stick or oxy-acytelene setups for a variety of welding processes. Both booths contain fixture tables and fume hoods. This shop also houses a OMAX waterjet.
The Machine Shop (MAC 106)
The machine shop houses 5 knee mills and 3 large lathes. In addition to several assembly benches, the space also contains various mechanical hand tools for fabrication and assembly and metrology equipment. The latest addition to this space is a Hurco VM10i, which is available to students under supervision of our staff.

The Abrasive Shop (MAC 107)
The abrasive shop contains two belt and disc sanders, a drill press, a surface grinder, an injection molding machine, a mill drill for tube notching, several bench top grinders and a blast cabinet.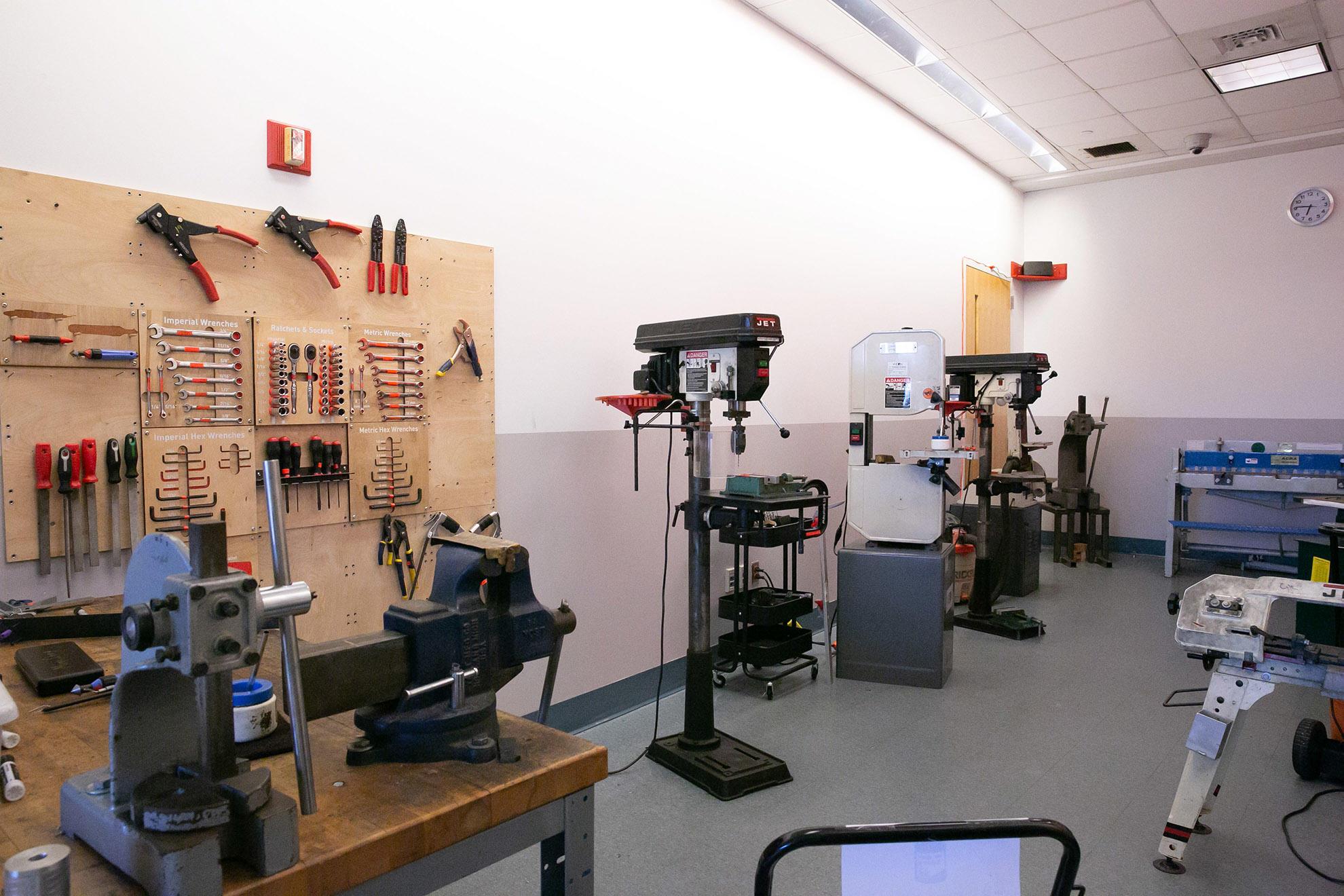 The Mini (Metal) Shop (MAC 108)
The Mini Shop contains two drill presses, a vertical band saw, a belt and disc sander and several unpowered sheet metal tools such as a 24" roll, 24" manual shear, two corner notchers and a turret punch in addition to an assembly bench. This space is primarily used for Mechanical Prototyping. There are 8 FDM 3D printers available 24/7 to the community outside Mini (Metal Shop) in the 3D printing farm.
The CNC Shop (MAC 109)
This is the newest space addition to the Olin Shop and is centered around CNC fabrication. There are four Tormach 770M CNC mills, a Tormach 15L Slant-Pro CNC lathe, a vynil cutter, a vacuum former and an injection molding machine in addition to hand tools, band saw and drill press.
The Bot Shop (MAC 116)
The Bot Shop is equipped with a panel saw, a 4'x8' CNC Shopbot router and several hand operated woodworking tools.
​
3D Printing Studio (MAC 125)
This studio hosts a multitude of 3D printers (2 Ultimakers, 16 Prusa Mk3s) for the enjoyment of all community members, whether they have personal projects or classwork they'd like to use 3D printers for!
​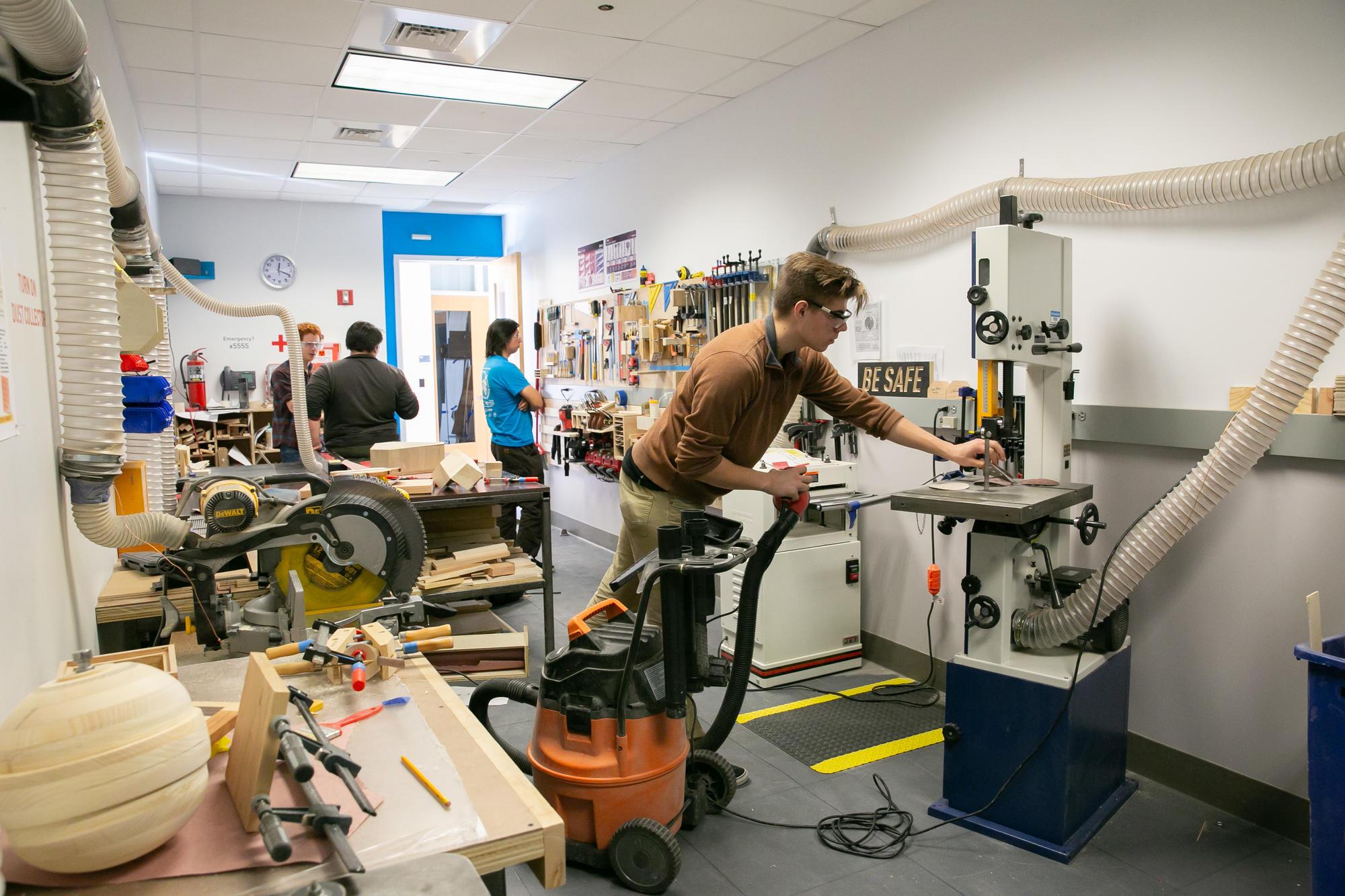 The Wood Shop (MAC 129)
The wood shop is equipped with a table saw, miter saws, spindle sander, drill press, vertical band saw, router, jointer and several hand-operated woodworking tools. This space supports a variety of co-curricular activates.
The Photo Studio (MAC 202)
The photo studio allows our students to take photos against green screen or different coloured backgrounds. We have a selection of LED lightweight lights that allow you to capture atmospheric lighting from different angles.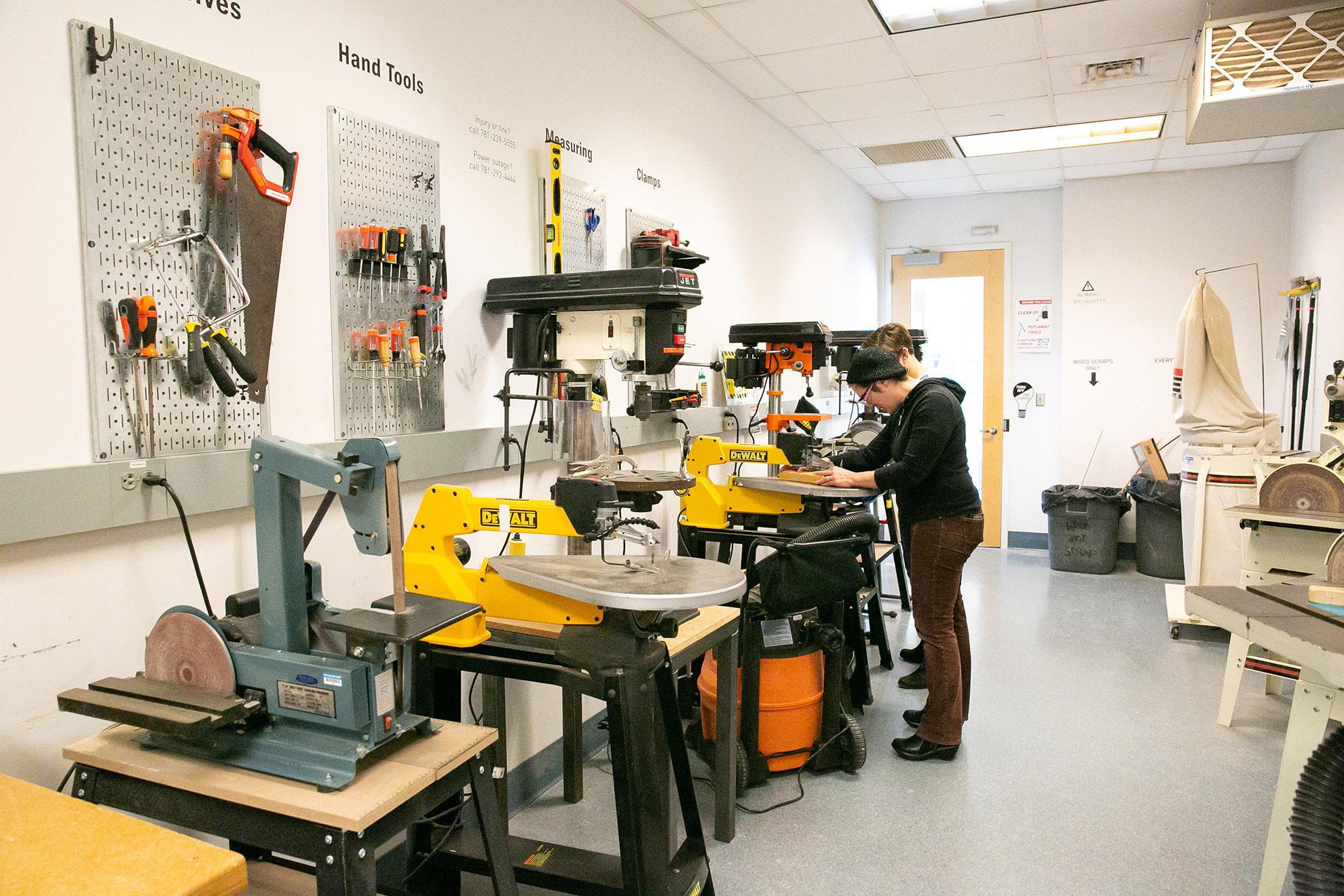 The Green Shop (MAC 207)
The green shop is used to support a variety of courses (e.g., Design Nature, User Oriented Collaborative Design) and student projects due to its adjacency to the design studios on the 2nd floor of the Academic Center. The green shop is equipped with two belt and disc sanders, one miter saws, five drill presses, three vertical band saw and several hand operated woodworking tools.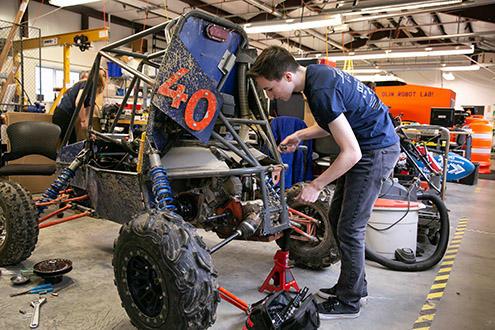 Large Project Building
Olin College has a 6800 square foot Large Project Building that consists of 4 high bay project spaces accessible by 14' roll up doors and an enclosed spray paint and composites fabrication bay. This building was created primarily to house the growing number of student research and SCOPE projects too large to fit in the Academic Center. In a typical academic year, it will host 2-3 SCOPE projects, 2 ADE projects, 2 large-scale externally funded research projects, the SAE Mini-Baja race team, the SAE Formula team and the Sailbot race team. The space currently has a 2000-pound overhead crane, an 18' diameter test pool and a 10 x 8 x 8' painting booth.